By offering your employees a self-service portal, you grant them 24-7 mobile access to their individual employee data and important HR processes ranging from PTO requests and benefits adjustments to scheduling, training, payroll processing, and much more. Of course, employee self-service portals also offer significant benefits to employers. A self-service portal reduces business costs, increases reporting accuracy, and minimizes manual tasks for HR staff and managers. It also boosts employee engagement by offering an intuitive, efficient, user-friendly platform for employees to manage all of their HR tasks and collaborate with coworkers.
The transparent and automated features of an employee self-service portal provide an objective reference point in the event of any legal disputes, compliance issues, or reporting discrepancies, allowing employers to rely on organized historical data to improve HR processes and policies.
In this article, we'll explore the range of ways an employee self-service portal can support your business, improve employee satisfaction, and free up time for your HR staff to dedicate to high-priority, growth-oriented business tasks.
How it Works & What to Look For
An employee self-service portal is typically a cloud-based platform that provides your employees with access to employee data and HR functions from a range of devices (PC, laptop, smartphone, tablet, etc.) and wherever they can connect to Wi-Fi. In general, the platform should be encrypted and secure, offering a range of admin permissions and oversight options, as well as personalized employee profiles that ensure privacy and privileged access to personal information. In terms of ease of use, employees should be able to update their data and complete a wide range of HR tasks efficiently. Managers should be able to retrieve employee-specific data quickly, using search and filter fields that make request approvals, internal communication, benefits administration, and verification of employee information a breeze.
Reduces Costs and Time Spent on HR Administration & Payroll
Whether it's handling payroll, organizing employee information, facilitating training, or managing benefits administration, when these tasks are completed manually by your HR staff or managers, they consume tremendous amounts of time and resources. By using an employee self-service portal, changes to employee information, PTO balance monitoring, the delivery of payroll stubs, completion of W-2s, access to training modules, and many other tasks are automated or delegated to your employees. This opens up time and opportunities for your HR staff to focus instead on improving talent acquisition, employee onboarding, business partnerships, and much more.
Minimizes Errors and Increases Accuracy
Eliminating redundant tasks and high-volume paperwork also significantly reduces the likelihood of human errors that could lead to legal or financial penalties. With an employee self-service portal, employees are empowered to update their employee data at any time, including information that could otherwise lead to reporting errors. They can update addresses, phone numbers, educational information, certifications attained, or other information as needed, bypassing the need for HR staff to confirm or update employee data for a large number of employees through a manual process. For employers, the employee self-service portal also simplifies the dissemination of any company-wide documents ranging from employee handbooks to time-sensitive announcements. This ensures that all employees receive necessary updates and information at the same time and through the same platform.
Improves Employee Engagement, Trust, and Transparency
Although an employee self-service portal alleviates some of the most tedious and demanding administrative responsibilities for your HR staff, it also gives your employees a sense of control, trust, and steady access to the data that affects their employment. Employees feel more at ease knowing that they can update information as needed, check on the status of approvals (for time off, training, expenses, or otherwise), and stay regularly attuned to their benefits status, PTO balances, and any significant updates occurring within the company.
A self-service platform also majorly improves internal communication within a business. Typically, employee self-service platforms offer chat features and other platform-based tools that can improve collaboration between employees and within departments. Most platforms also permit digital interactions (comments, responses, etc.) to company-wide or departmental announcements.
Easy Access to PTO, Scheduling Changes, Requests, and Time & Attendance
For most HR staff, managing time & attendance, scheduling, and PTO without a digital platform (especially a self-service platform) is a demanding and time-consuming process. Fortunately, an employee self-service portal allows employees to submit their vacation, PTO, and scheduling requests through the platform itself. For your HR staff, these requests can be consolidated into a single request log and approved in real time, expediting and organizing the entire process. The self-service portal should also allow your employees to easily track their PTO balances so there's complete clarity about when they are eligible to submit requests. Within the portal, there should also be tools to assist with shift coverage, which is particularly helpful for businesses with larger hourly workforces.
From an employer's perspective, the data reporting features available through an employee self-service portal allow businesses to monitor absences and other scheduling trends – gaining insights about time and attendance, including how the company, specific departments, or specific employees can improve productivity, or how the business itself can improve practices/policies to prevent future issues.
Ensuring Data Protections & Long-Term Compliance
Using a manual or paper-based process (or a digital one with limited security) can lead to data breaches that cause reputational damage and serious legal or financial consequences. Your data practices must comply with a number of local, state, federal laws, as well as other regulations that apply to specific industries and business structures. A quality employee self-service portal offers a range of security protections that keep your sensitive business information and employee information protected from external threats and internal fraud. Additionally, the platform should be capable of adapting its functional parameters to keep your HR practices compliant with whichever specific regulations apply to your business and jurisdiction.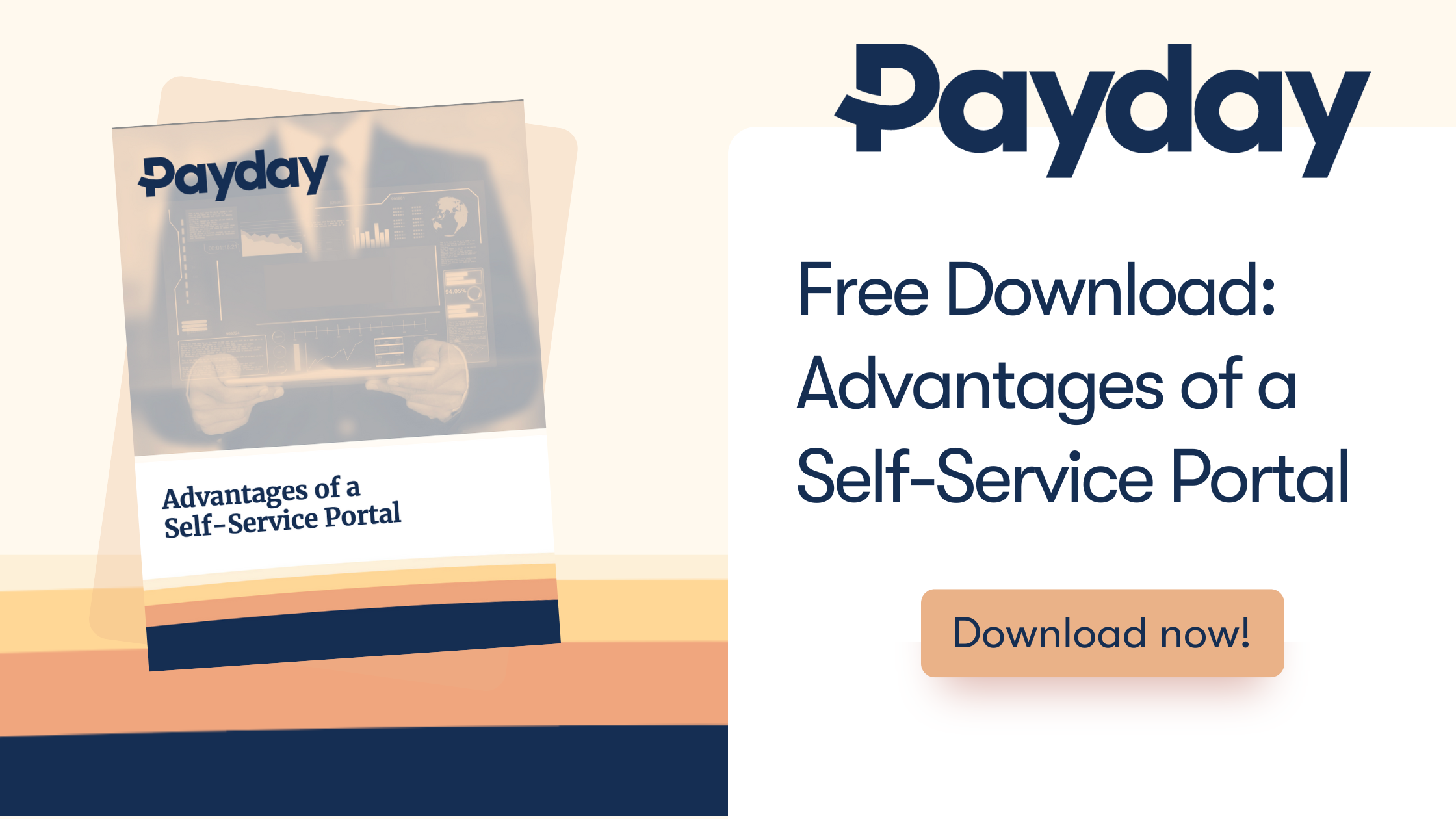 Simplify HR and Empower Your Employees with Payday
Providing your employees with a self-service portal boosts employee engagement and trust while lightening responsibilities for your HR staff so they can focus on the most essential tasks that help your business grow and improve. Payday's employee self-service portal is a secure, mobile, and user-friendly platform that empowers your workforce to manage and update their own HR data, simplifying and expediting approvals, reporting, and compliance for your managers and HR staff along the way.
Ready to improve productivity, payroll, scheduling, and data management for your employees and HR staff? Contact us today to let us know how we can support you.